Our Reviewers
Mylan Cannon is a junior photojournalism major at Ohio University. He currently serves as chief editor for Theessaymag.com, an online student publication, in which he is co-founder.
Rob Weber, editor of the Rochester Photo Brigade, is a Senior at the Rochester Institute of Technology. He shoots still life, people, and action, and you can find more work on Rob's blog.
This review is the first installment of a four part review of the online photography business and portfolio site, Photoshelter.  The reviews will be spaced over the coming months and will test how effective the Search Engine Optimization features and image archiving are.
Mylan Cannon
First I would like to start off by saying that I am not a big fan of the generic template type of websites out there Edit: Photoshelter allows for full Manual Customization of a new site or the ability to tweak the already existing templates, but I am a fan of any tool that helps me sell and distribute my photographs. Photoshelter can be both these things.
Photoshelter's strength lies within its archival and distribution system. You can upload batches of your work into your account archive and then you have the option of creating galleries from those photographs.
You can then determine whether or not those galleries are public or private and you can then set a price for the downloads of your photographs.
This is great for event photographers who want to offer their photographs for purchase to a large amount of people. The editorial photographer could use this to present their work to photo editors who could select photographs for publication just as quick and easy as they would using a wire service. The same applies to the commercial photographer and their clients.
I intend on using Photoshelter as an online tool to share my edits with photographers and editors over the following months. However, I do not intend to use this platform to host my portfolio, I feel there are better platforms out there for that.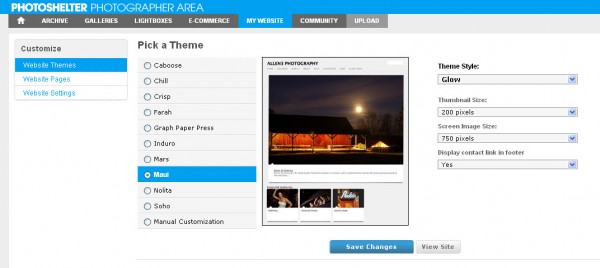 While the photographic archive system is great, my first impression of the amount of control one has over the design of the site was a bit disappointing. I recognize that most of us photographers are not the web developing and coding type but I do wish that there was more access and control over the site's design. I would not recommend Photoshelter to the photographer who is just looking for a portfolio platform. I would recommend it to the photographer who is serious about distributing their work and offering it to their clients in a very easy and efficient way.  The archive's interface is designed in a way that is similar to a computer's file finder window. Also, just like in Adobe Bridge, you can rate, caption, and modify the IPTC profiles of the photographs.
Overall, Photoshelter is a web platform with a strong content management and delivery system that really serves as a powerful selling tool for photographers.
Rob Weber
Photoshelter holds the potential to handle a photographer's entire online presence with fully customizable templates for your homepage and enough manual adjustments that the more web savvy photographer could tailor a site to their needs.  I intend to use my account with Photoshelter to host my image archive, post images from assignments, games, and portrait shoots, and deliver my work to clients using password protected galleries and the built in FTP.
After signing up I began to upload my selects from a couple of hockey games from the past year.  By the end of the 2010-11 hockey season my goal is to be able to Google RIT Hockey and have my image archive be in the top 5, with my images in the 1st page of the image search.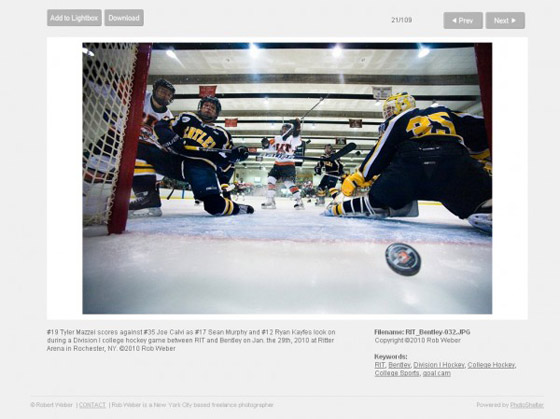 Photoshelter has a Search Engine Optimization grader that walks you through the steps to  promote your site online that includes everything from captioning and keywording to having an "About" page on your website to get your contact information seen.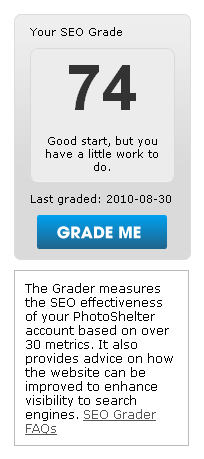 In addition to having a great set of tools to increase your visibility on the web and thorough tutorials on how to use them, Photoshelter's archival system is built to handle large sets of images with ease.  The Photoshelter interface is similar to Photo Mechanic and the two integrate to upload images from Photo Mechanic straight into your archive without using a web browser.
One way in which Photoshelter has saved me a significant amount of time is worrying about image delivery.  What used to require cds, contact sheets, and a trip to the post office or a drive to hand deliver my files can now be done by creating a private gallery for a client who can then download the images they want.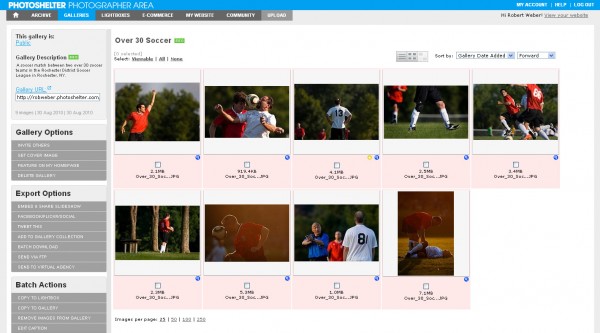 I spend about a month and a half on the road a year and do not always have access to my full archive, but if a client calls me looking for images I can now use any web browser enabled computers to deliver files.  Sometimes the internet connection on the road is slow, but since Photoshelter has a very high speed connection no matter what my connection looks like the images are delivered rapidly.
This high speed connection and web browser based interface has a few drawbacks, however.  When arranging my image archive I break my folders down to year>month>day+shoot name.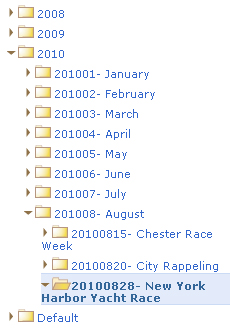 Unfortunately I cannot drag one folder that is in my archive and drop it in another folder.  What I would like to be able to do is drag an entire folder from month to month rather than having to create a new folder in the parent folder of where I want the file and moving the images from the old file into the new one.
In addition to making thumbnail galleries on your Photoshelter page, the site allows you to create a flash based embeddable gallery.  This feature makes blogging about images you have archived very fluid but requires you to upgrade your WordPress account to allow plug-ins.  I would like to see embed code that I can drop in like a Youtube or Vimeo video and not have to worry about the extra headache of upgrading and figuring out how to enable the plug-in on my blog to allow the gallery to work.  Edit:  Photoshelter does have embeddable code available for direct galleries and single image embeds.  The WordPress Plugin, which was referred to earlier, is an additional method for embedding images.
As I go through files and keyword, tag, and caption some of my older work on Photoshelter I would like the option of being able to mark a file as "completed" so that I know I have gone through it.  Each time I save metadata I have to wait for two page loads rather than one because there is no "save and continue" button, which adds up after going over 700-800 images in a day.  When you click on an image in your Photoshelter archive to see it larger you can edit the metadata as well as advance through the catalog with the arrow keys, one of the features that does show the site has been designed to save you time on everything you do.  Keywording and captioning in the Photoshelter interface is more time consuming than working from Photo Mechanic and I would recommend finishing this step before uploading to Photoshelter.
I believe that Photoshelter is going to be a useful tool for my photography business by simplifying the management, sales, and delivery of my images to my clients allowing me to focus on making the pictures that will generate both interest and income.