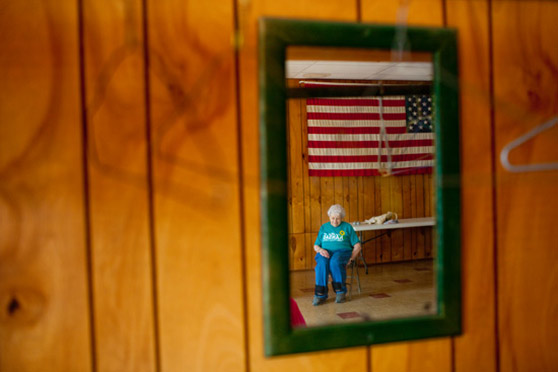 Matt Slaby, David Banks, and Kendrick Brinson of Luceo Images spent 24 hours documenting Lebanon, Kansas last month.
Lebanon is a quiet place. It's the geographic center of the United States and the perfect start to a group project that all of LUCEO will be working on. The population of the town teeters around 200 (less than my high school senior class). It's surrounded by beautiful swaying fields of wheat and clusters of cows. Main Street has buildings that are crumbling. There's still a beauty parlor, a bank in a trailer, an everything type of convenience and grocery store attached to a small diner, an American Legion where I (Kendrick Brinson) photographed 9 women in their 60-80s exercising, and a gun shop.

A brochure made by the Lebanon Hub Club about Lebanon's claim to fame as being the Center of the 48 States reads:

"The Simple Life in the Middle of the USA: Smith County offers a lifestyle rooted in raising crops, nurturing families, building community relationships, and open spaces…. Smith County offers a quiet life with beautiful sunsets in an area where neighbors know their neighbors."
Continue reading and see more images on the Luceo Images Blog.