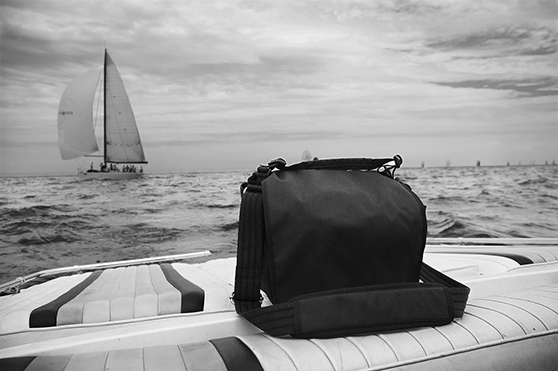 Our Reviewers
Robert Caplin, founder of The Photo Brigade, is a freelance photographer and cinematographer based in Manhattan who's clients range from the New York Times, Los Angeles Times, and Wall Street Journal.  He is currently on tour working on a long-term documentary on Canadian pop singer Justin Bieber.  You can find more work on Robert's Blog.
Tiffany L. Clark , editor of the ICP Photo Brigade and '07 ICP Alum, is a freelance photographer based in New York City and the Twin Cities in Minnesota. Tiffany shoots mainly photojournalism and documentary work in the city but also likes to dabble in fine art, weddings and portraiture. You can view more of her work on her website and her blog.
Rob Weber, editor of the Rochester Photo Brigade, is a Senior at the Rochester Institute of Technology. He shoots still life, people, and action, and you can find more work on Rob's blog.
Mylan Cannon is a junior photojournalism major at Ohio University. He currently serves as chief editor for , an online student publication, in which he is co-founder.
The Retrospective 10
Once again our sponsors at Think Tank Photo have hooked three regional Photo Brigade Editors up with one of their bags and let us test it out.  Below we have labeled the different parts of the bag so that everyone understands what we are referring to on different parts of the bag.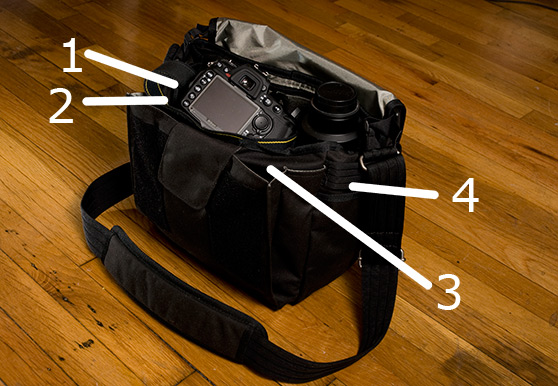 1.  Main Compartment
2.  Interior Side Pockets (not pictured)
3.  Expandable Pocket
4.  Exterior Side Pockets
5.  Wide Storage Pocket (rear of bag)
Each of our reviewers give their initial impression on the bag.
Mylan Cannon
As soon as I put my gear in the Retrospective 10 and threw it over my shoulder I was really surprised by how comfortable it felt.  Mylan speaks his mind in a quick video review:
Think Tank 'Retrospective 10′ Review from Photobrigade on Vimeo.
Rob Weber
When I first took the Retrospective 10 out of the box it looked like a canvas messenger bag that contained half an Urban Disguise 50 placed inside of it.  The bag was casual and inspired me to carry my camera around more because it was so comfortable.  I got a chance opportunity to photograph a car wreck and was soaked through, but the canvas alone kept my two paperbacks dry while I got soaked.  Another winner from Think Tank.
Tiffany L. Clark
I first noticed the rain protector and thought that was a nice touch.  I was not too happy with the outside side pockets because there is no give to them or anything, so I don't really see the point in them other than a pen and some other random stuff; they are not big enough for a water bottle, too deep to put your cell phone,/ipod/ iphone in because they fall too far down and there isn't much room to try and dig them back up.
Robert Caplin
I think it's a great bag, but it's a little too tall for most of my use. I rarely keep my camera body and attached lens inside my bag, rather I keep it strapped on my shoulder.  So my smaller prime lenses get lost in the bottom because the bag is somewhat deep.  The slot in the back very snugly holds an iPad. It would be nice if Think Tank tweaked the slot to perfectly fit the iPad with proper padding.  I used it the other day on a whim to shoot Justin Bieber while he was playing the TODAY Show. I liked that it held larger lenses compared to my tiny domke bag that I've used for years. The Retrospective 10 will accommodate quite a bit of gear including large zooms such as the 70-200.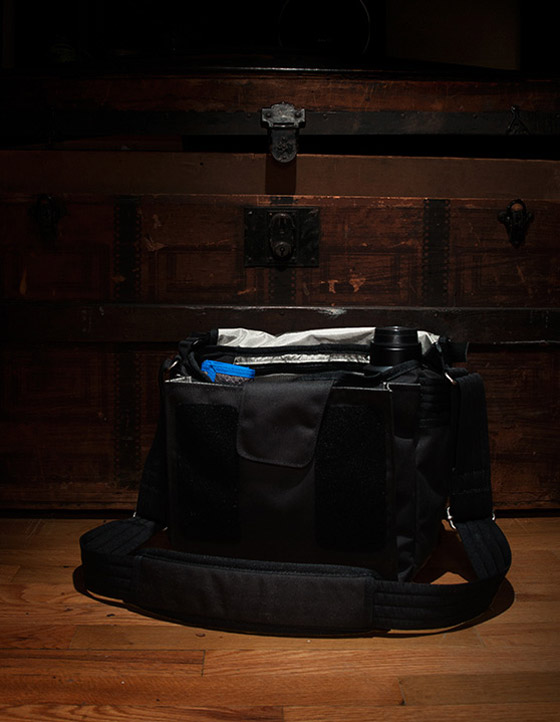 Tiffany shares her list of gear and various items that the bag handled:
I fit my d300s, 17-55 mm, sb 800 (w/ttl chord), batteries, card holders, a book, my wallet, keys, a sunglasses case, swimsuit, goggles, and gym towel into the bag.  The velcro and length of the flap allowed me to keep adding equipment without worrying about anything falling out.
The Retrospective 10 is defined by design futures aimed at those who photograph in a wide variety of environments.  One of the stand out design features that our reviewers picked up on was the velcro "silencer" that Think Tank built into the bag.
Mylan
I  enjoyed having the option of silencing the velcro that seals the bag, which rendered opening the bag effortless when needed.
Tiffany
I thought the velcro silencer was great and I literally said "wow" out loud when I noticed them.  I have not had to be in a situation shooting to really need them but I can imagine it being a great asset if you are shooting really quiet things.
Robert
I really liked how the velcro could be silenced, I've had so many assignments where I had to rip my bag open in a super quiet environment, always resulting in unwanted attention. Kudos for that idea.
Another unique design feature to the Retrospective 10 is the Expandable Pocket, which can hold a surprising amount of gear (including 2 speedlights), or even small textbooks or a paperback book.  The Wide Storage Pocket could hold a notebook or iPad and helps keep the main compartment clean of papers.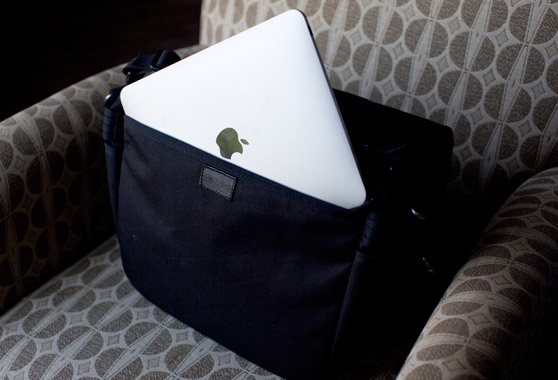 Summary:
The Retrospective 10 is quite effective as a camera bag that does not look like a camera bag.  It is made out of canvas that can take a beating and the hardware is top notch.  The subtle design of the bag let you blend in and become a fly on the wall instead of being labeled immediately by your gear.
If you decide that you do want to give the Retrospective 10 a spin, order through any of the links on the Photo Brigade review and you will get a free camera bag accessory with your order.
Think Tank also makes two larger versions of the Retrospective 10, the Retrospective 20 and the Retrospective 30.
Think Tank has an educational discount and you can save 30% while also having 5% go back to your school. All you have to do is have your school sign up. Check it out online for more information.