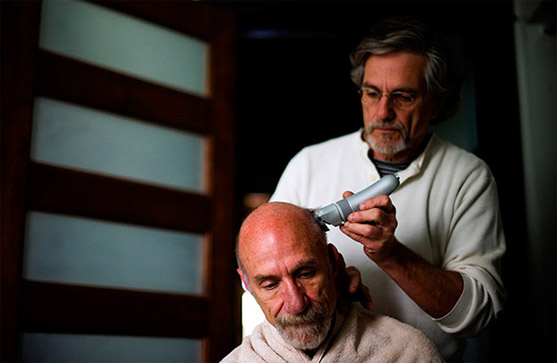 John Schreiber, MU masters candidate, photographed a story about a gay couple's struggle to survive while living with AIDS during the recession.
For a long while, I wanted to tell a story about how budget cuts in the state of Missouri have affected people with chronic medical conditions. As I found out, people living with HIV/AIDS are getting hit fairly hard by cuts to the state's health care budget.

As I spent most of the semester finding willing story participants, I only had two weeks to actually shoot the story. While that isn't a lot of time for a long-term documentary photo story, I realized that having to put together a story in two weeks was probably something I would have to do in the future at a newspaper or other publication. So, I just embraced the time crunch and dedicated myself to the story.

My biggest challenge with this story was trying to show how Mark and David are struggling. This is something that was not as literal as I thought it would be. Because Mark and David are on disability, the only thing they can own is their home and their car. So, to make money, they renovate old homes and then sell them for profit. This meant that on the surface, just by looking at their home, their lifestyle looked pretty nice. But, in reality, they are hurting. So, I tried to focus on how they have been forced to live a very thrifty lifestyle and how their relationship with one another acts as a support system.

This is by far the biggest issue story I have tried to tackle and I only see this as a beginning to a larger story. Hopefully, in the future, I can build upon this story and photograph other people dealing with the same issues as Mark and David.
Continue reading and see more photos on  John's blog.