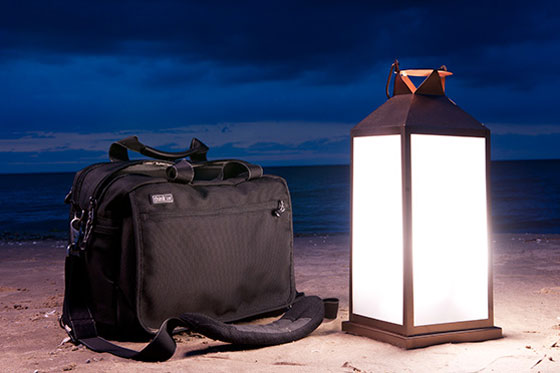 This article marks the start of the Photo Brigade learning and education content. The regional Photo Brigade and its editors will be delivering reviews and articles written by students, meant for students.
Our Reviewers
Rob Weber, editor of the Rochester Photo Brigade, is a Junior at the Rochester Institute of Technology. He shoots still life, people, and action, and you can find more work on Rob's blog.
Charles Ludeke, editor of the Missouri Photo Brigade, just graduated from the University of Missouri's photojournalism program. He photographs long-form stories and portraits with an emphasis on the LGBT community. You can see more work on Charles' website.
Mitchell Franz, editor of the Syracuse Photo Brigade, is currently studying photography at the S.I. Newhouse School of Public Communications at Syracuse University and is a freelance photographer in Texas and New York.
The Urban Disguise 50
For our review of the Think Tank Urban Disguise 50, our sponsors hooked three regional editors up with the bag and let us have at it. Before we get into our opinions of the bag, it's important that we all understand the names we are using for different parts of the bag.
1. main compartment
2. laptop sleeve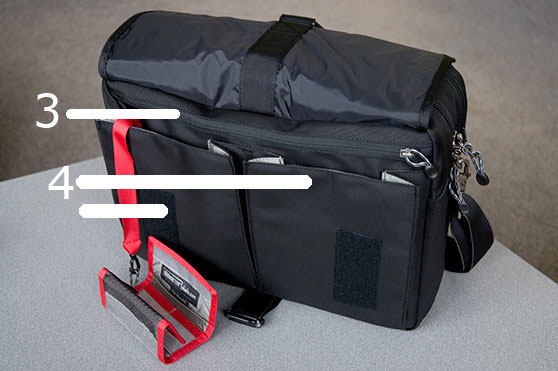 3. front zippered pouch
4. expandable pockets
When we got the bags, all three of us took pictures of the process and wrote down our initial impressions.
Rob:
"One of the first things I noticed about the bag was how much extra padding they included with it. The extra dividers let me stack gear vertically into the main compartment, space that has just been wasted or taken up by gear wrapped in handkerchiefs in my previous bags."
Charles:
"The sleek design makes the bag look like an informal briefcase– perfect for a recent graduate trying to shed his "student" identity." (Also helps you avoid attracting a lot of unwanted attention to your expensive camera gear)
Mitchell:
"I can fit my 13″ MacBook laptop with two external hard drives, power cord, card reader and spiral while also carrying a camera with a lens and a couple other lenses. The compartments are organized and feel excellently padded. I know my gear will ride safe in this bag."
In three different cities, without any prior discussion about it, all three of us decided to see just how much stuff we could get into the Urban Disguise 50, here's one list of what we were able to fit in it with corresponding locations of the gear:
15" Macbook pro- laptop sleeve
Macbook charger- main compartment
Nikon sb-600- main compartment
Nikon 24-70 2.8 on a D300- main compartment
Nikon 50 1.8- main compartment
2 Multimax PocketWizards + sync chords- main compartment
Wescott collapsible umbrella- main compartment
2 Nikon sb-26's- expandable pocket
Nikon D3- expandable pocket
Think Tank Pixel Pocket Rocket card wallet and Mini Pocket Rocket- expandable pocket
8 AA batteries- front zippered pouch
pens, pencils, etc- front zippered pouch
Rob:
I assist for a photographer who shoots sailing regattas across the country and he travels with a full kiosk system and shooting gear. As a result of this I live out of my carry-on bags for three or four days at a time because I check gear for him on our flights. I throw a few speedlights, two lenses, and my laptop and camera into the Urban Disguise 50 and call it a "personal item" while my clothes go into my "carry-on." This way I can still shoot my assignments while I'm on the road.
In the same way we like to feature freelancers work the Brigade also likes to point out aspects of a product that go above and beyond. Arguably one of the main reasons this bag is so versatile is the front expandable pockets. These allow the bag to go from sleek, hip-resting day-to-day bag to a black hole for equipment. These two pockets can almost double the amount of gear the bag will carry. The other feature that stood out was the rear slot that allows you to slip the bag onto the handle of a roller bag or gear cart. This allows you to secure the bag directly to gear carts on location and onto carry-on luggage, a seemingly unique feature to the Urban Disguise line.
One of the chief complaints our regional editors brought up was the weight of the bag. The weight issue, however, turned out to not be Think Tank's fault.
Charles:
"It's comfortable and the strap doesn't rub my shoulder. It can make my lower back a bit sore if I carry too much, but that's inevitable for pack-mule photographers."
Rob:
"The bag seemed heavy at first, then I remembered I had a textbook, and most of the gear I own in it. What I used to carry in a backpack fits in the Urban Disguise. Think Tank gives you the option of loading the bag up and if you aren't smart about it, you can take too much gear on a day-to-day basis just because you can."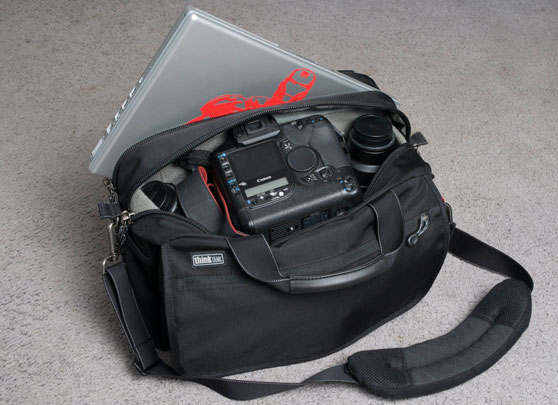 Summary:
The Think Tank Urban Disguise 50 stands out as a clever, well thought out piece of equipment. Little design features just make sense. The main compartment can hold a body with a lens on it. The side pockets are stretchy and can fit a water bottle or speedlight snugly. Extra padding and dividers are included when you buy it. There's a pocket to hold a business card instead of a bag tag. You can take the rain cover completely off the bag if you need to re-purpose it. These design features make this bag more utilitarian and adaptable than any other bag we have put our hands on.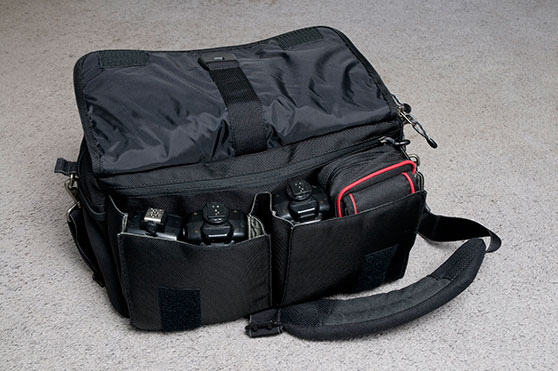 If you decide that you do want to give the Urban Disguise 50 a spin, order through any of the links on the Photo Brigade review and you will get a free camera bag accessory with your order.
Think Tank has an educational discount and you can save 30% while also having 5% go back to your school. All you have to do is have your school sign up. Check it out online for more information.