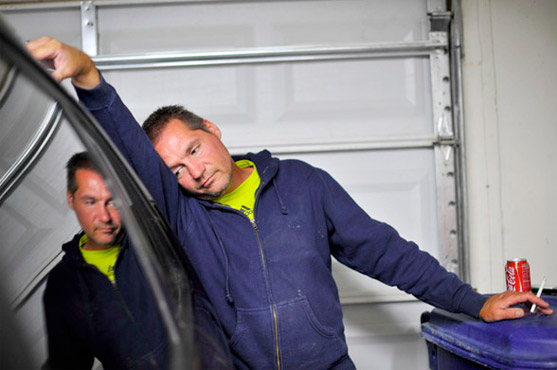 Charles Ludeke just graduated from MU and photographed his 30-day story for Picture Story on Kelly Glossip, a man who lost his partner, Missouri State Highway Corporal Dennis Engelhard, on Christmas Day 2009. Glossip has been trying to rebuild his life without the support of family or pension benefits.
This is the first truly long-form story I've done. I spent two months with Kelly, driving two hours every weekend to be with him. I found it interesting how I became a sort of support system throughout the process. We both came to rely on one another — his on my presence to reduce his loneliness, my on his trust and access to allow me into his life. We are often told of objectivity, but I've come to a point of wanting to be more fair than objective. His story is very important to me, and Kelly matters. Objectivity wouldn't have given me the kind of relationship or access that I got because of this story. I tried to be fair and not one-sided with it.

I didn't expect to be granted the access that I did. Being able to photograph Kelly at 4 a.m. as he woke up? I don't think most people would allow a photographer to do that. But he was comfortable enough to let me stay at his home. I'm glad I started this project three weeks before it was assigned. It took me a month to build a good, trusting relationship. Then the best images began to be made. Every time I went, the photos got better and better and better.

I'm very pleased with the end result. I definitely would like to continue photographing his story throughout the year. And hopefully also several years down the road. I'd like to photograph more stories focused around the LGBT community and their fight for civil rights. Things are changing slowly. I want to document the progress.
Check out the full story on Charles' blog.