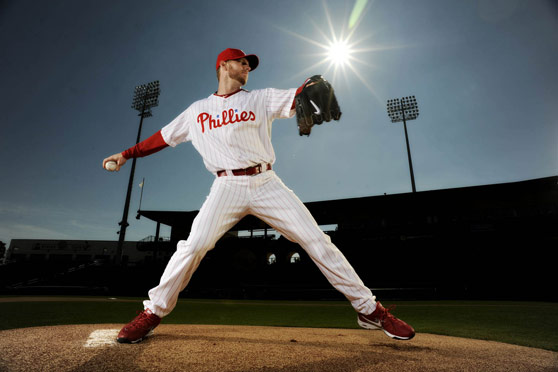 Florida-based freelance sports photographer Preston Mack recently photographed Phillies pitcher Roy Halladay for the cover of Sporting News and shared how he took those portraits.
My love of photography began with baseball cards. My brother Pat and I had thousands of cards, and I think I picked my favorite players based on the player photos. Whenever I have a chance to shoot a professional baseball player, this is always on my mind. When the Sporting News asked me to photograph Phillies pitcher Roy Halladay, I knew it was an amazing opportunity. Roy had been traded from the Toronto Blue Jays and had never put on the Phillies uniform. I would be able to make the first ever photos of him in full uniform…
Continue reading about his lighting setup and see more photos on Preston's blog.