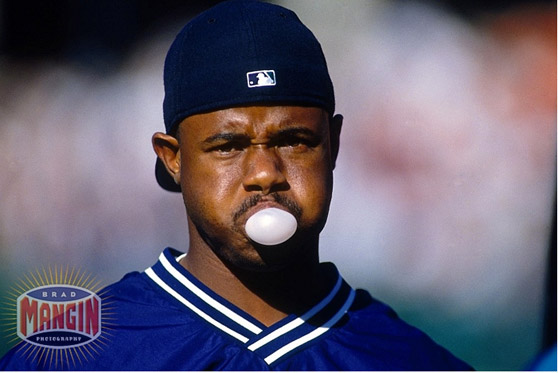 San Francisco Bay Area-based sports photographer Brad Mangin has a huge collection of Major League Baseball stock in his archives dating back decades, searchable even by bubbles!
As a kid I always tried to blow big bubbles after being inspired by the Bazooka Big League Bubble Gum Blowing Championship that Joe Garagiola ran during his pre-game show (The Baseball World of Joe Garagiola) on NBC's Saturday Game of the Week telecasts in the 1970's. I remember Los Angeles Dodger pitcher Andy Messersmith being the best I ever saw, till he bowed out of organized bubble blowing competitions in 1975 as Kurt Bevacqua and Johnny Oates battled it out  for the the title and the $1,000 top prize. See the fabulous video here from October 14, 1975 prior to Game 3 of the 1975 World Series that shows the championship blow off.
Continue reading and see more of bubble photos on Brad's blog.