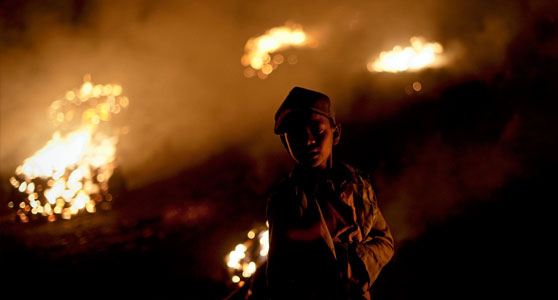 Keith Bedford is a freelance photojournalist based in New Delhi, India. A native of Baltimore, MD, who as a regular contributor to Reuters and the New York Times has been published in USA Today, Newsweek, Time, Stern and Paris Match among others. After spending two years covering the U.S. Presidential campaign and co-founding The Stumping Grounds, a photo blog dedicated to documenting that time, he has moved to India for the challenge of covering a new country and talking about himself in the third person.
After bribing police, scavengers are allowed to illegally collect coal from a Bharat Coking Coal field February 19, 2010 in the town of Bokapahari in the Indian state of Jharkhand. Scavengers make about 40 Rupees(.90 USD) per basket of coal on the black market. Nearly 400,000 residents, 3000 in 400 homes in Bokapahari alone, live over dozens of giant underground coal fires that pump out toxic fumes and form fire pits underground that has lead to several deaths and collapsed homes. WIth coal scavengering a primary source of income for many residents, a proposed government relocation of residents is being met with resistance.
Read his article and see more photos on Keith's blog.